« October 2005 | Main | December 2005 »
November 23, 2005
Reports on the November 16 Protest in Brooklyn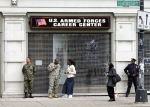 At least in New York City, the November 16 protests against military recruitment seem to have achieved their goal. The shuttered gates at the Flatbush Avenue recruiting stations suggested that the military is willing to cut and run from at least some battles.
Read a report on NYC Indymedia and Sarah Ferguson's article from the Village Voice. (Photo by Fred Askew.)
Posted by Joshua Breitbart on November 23, 2005 | Permalink | Comments (25) | TrackBack
November 22, 2005
Vanity Fair: The Recruiter's War
I've been xeroxing and faxing this article for weeks. Either because I missed it or because they don't post it until the issue is off the newsstands, I've only just found this September 2005 Vanity Fair article, The Recruiters' War. It doesn't have much to say about counter-recruiting, but it makes it very clear just how thin the recruiters are stretched and how far they will go to satisfy their superiors' demands.
Posted by Joshua Breitbart on November 22, 2005 | Permalink | Comments (50) | TrackBack
November 18, 2005
Counter-Recruitment CD
Just got this in the inbox...
CALLING ALL REVOLUTIONARY RECORDING ARTISTS

Spoken Word Poets
Rappers/Hip hop artists
Singers
Reggae/Reggaeton artist

Use Your Voice to Say No to the U.S Military and its recruitment of our youth!!!!!

El Puente Center for Peace & Justice in Bushwick is producing a CD compilation of music and spoken word demanding an end to U.S military expansion.

The CD will be used to educate youth about the destructive impact of U.S militarization on our community and abroad.

Submission Details:
All music and spoken word submissions must be good quality on CD. Include you name, contact information, and title of the song.

Deadline is December 9th . A submission does not guarantee spot on the compilation.

For more information contact Piper Anderson at 718-452-0404 or via e-mail [email protected]
Posted by Joshua Breitbart on November 18, 2005 | Permalink | Comments (1) | TrackBack
November 17, 2005
Not Your Soldier Day of Action
A press release from the National Youth and Student Peace Coalition
FOR IMMEDIATE RELEASE:
November 17, 2005
Contact:
Lovella Calica, 989-621-1934
Emily Pollack, 908-499-1350
Not Your Soldier Day of Action erupts on over 40 campuses nationwide Students across the country to protest military recruitment in schools, call for end of war on Iraq
New York, NY - With a growing majority of the American public opposing the war on Iraq and President George Bush's approval rating hitting an all time low, students and young people are joining forces with veterans, military families, clergy, and others for a national day of protest on International Students Day, November 17.
The Not Your Soldier Day of Action is the first nationally coordinated mobilization by young people against military recruitment in our schools. From New York to Los Angeles, Milwaukee to Austin, students are holding rallies, teach-ins, marches and walk outs with the theme of "Books Not
Bombs" to protest military recruitment practices and the war on Iraq. There will also be events in Puerto Rico, Mexico and Colombia.
"This war is having a devastating impact on our generation and our education," said Emily Pollack, a student at Rutgers University in New Jersey. "The occupation is costing $7 billion per month while the House of Representatives votes next week on the largest cut to student loans in the history of these federal programs, over $14 billion!" The Not Your Soldier Day of Action will amplify the voices of the millennium generation who are saying no military recruiters in schools. At Hicksville High School in New York students will walkout during lunch. Washington, DC- area students will reach rush-hour federal employees with the message of "Stop the Assault on Youth." On Friday, in Colorado Springs, CO, Iraq Veterans Against the War will march to a recruiting center. "This day of action is calling attention to the predatory recruitment of low-income youth and youth of color by the US military," said Camilo Mejia, a conscientious objector and member of Iraq Veterans Against the War. "While it is people like me, who want job training and education, who have risked our lives in Iraq, it is Bush's
cronies at Bechtel and Halliburton who profit every day from our service in this unfounded war."
A list of Not Your Soldier Day of Action events is online at: www.nyspc.net. The Not Your Soldier Day of Action is organized by the National Youth and Student Peace Coalition (NYSPC) and the Not Your Soldier Project. NYSPC is organizing around the country to take back our future and build the Books Not Bombs agenda for youth and students.
Posted by Joshua Breitbart on November 17, 2005 | Permalink | Comments (8) | TrackBack
November 09, 2005
College Not Combat in SF
The November 8th elections brought another 4 years of Republican Michael Bloomberg to New Yorkers. Across the country, San Francisco voters struck a blow against military recruiting. Voters there approved a ballot measure urging the city's "public high schools and college campuses to keep out military recruiters." According to the Associated Press:
Measure I, dubbed "College Not Combat," opposes the presence of military recruiters at public high schools and colleges. However, it would not ban the armed forces from seeking enlistees at city campuses, since that would put schools at risk of losing federal funding.
Instead, Proposition I encourages city officials and university administrators to exclude recruiters and create scholarships and training programs that would reduce the military's appeal to young adults.
"We now have the moral weight of the city behind us, and it's definitely a valuable asset to have in our corner," said Bob Matthews, a College Not Combat activist, adding that the victory would help put pressure on the government to someday institute an actual ban on campus military recruiting.
Posted by Kat Aaron on November 9, 2005 | Permalink | Comments (6) | TrackBack